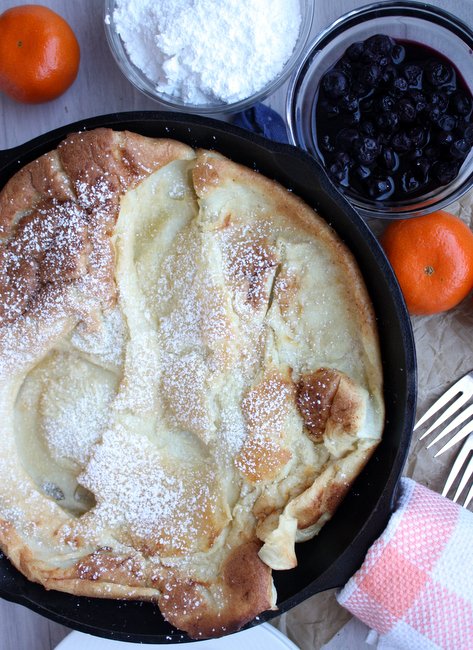 German Pancakes, Dutch Babies, whatever you call these glorious nuggets of breakfast: They're awesome. Apparently I'm on a breakfast kick this week, with French toast Monday and now these (AND JUST YOU WAIT!)… what can I say? I love breakfast!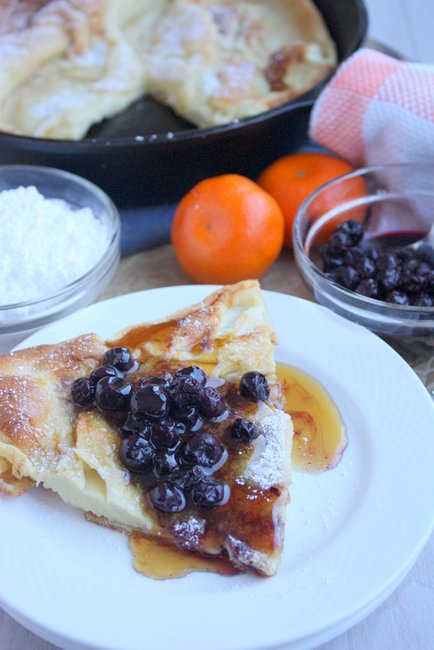 German pancakes could not be easier to make: four ingredients, quick baking time, and a lot of incredible flavor. I was a little careless with the butter on this one, hence the topsy-turvy crazy-face German pancake here, usually they're much more uniform. Either way, they taste great! And honestly, my favorite part is the crispy, buttery party (which this one had more of than usual!).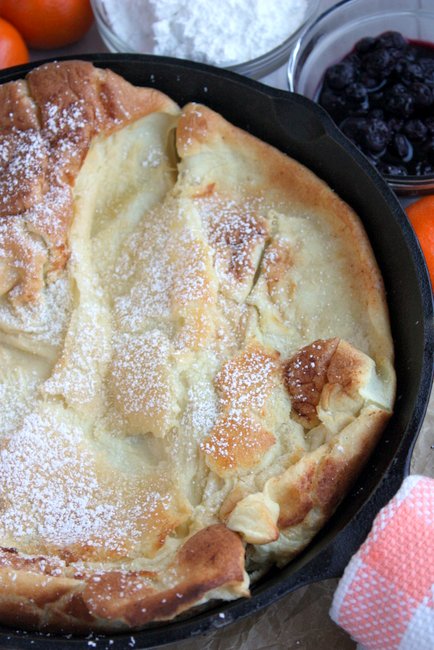 As with most pancake/waffle varieties, the topping possibilities are practically endless. I grew up eating German pancakes with powdered sugar and fresh squeezed lemon juice — and still insist this is the best option. Sometimes I'll use syrup and berries. Sometimes I'll mix some sour cream together with brown sugar, and spread that goodness all over (with strawberries is amazing!).
Any way you serve these, they're a hit. Not to mention, they look like they took a lot of effort! (but they didn't…)
German Pancakes
Ingredients
3 eggs
1 tsp vanilla
1 pinch salt
½ cup milk
½ cup flour
2 Tbsp butter
Instructions
Preheat the oven to 450 F.
Place a pie dish, or cast iron skillet, in the oven.
By hand, or in the blender, combine the eggs, vanilla, salt, and milk. Blend for a few seconds, until smooth.
Add the flour, and mix only until incorporated.
With the pan still in the oven, put the butter into the pan. When the butter has melted, remove the pan and gently pour that batter into the center of the pan.
Return the pan to the oven, and bake for 15-20 minutes, or until puffed and golden.
Serve with syrup, powdered sugar and lemon, sour cream and brown sugar, or whatever else suits your fancy!
Related posts: